Welcome to Congregation Schomre Israel, a modern orthodox synagogue located in Poughkeepsie, New York in the scenic Mid-Hudson Valley.
To see the shul's mission statement click here.
Shabbat schedule
Candle lighting: – 4:39pm * Mincha 4:40pm * Shabbos concludes - 1 minute after 5:41
Earliest time for the evening Shema – 5:40 * Latest time for the morning Shema – 9:42
Thirty-ninth Hamentashen Sale
Sisterhood is beginning its planning for its 39th hamentashen sale. To order please click here for all the details and order form.
Classes and events
Classes
· Sunday, January 23, ~9:20am – Talmud 5th Chapter (live)
· Tuesday, January 25, 10:30am – Daniel – Life of Daniel Recap (zoom)
· Thursday, January 26, 7pm – Learn how to Lein (both)
· Sunday, January 30, ~9:20am – Talmud 5th Chapter (live)
· Tuesday, February 1, 10:30am – Daniel – Life of Daniel Recap (zoom)
· Thursday, February 3, 7pm – Learn how to Lein (both)
Daf Yomi is at 7:00pm on zoom
Events
· Sunday, January 23, 10am - Hands-on Judaism – Introduction to Jewish Astronomy (breakfast will be served) [weather make-up]
· Monday, January 24, 6pm – Tu Bishvat celebration – Wine tasting, cheese tasting, olive tasting (and ice cream). Make your own fruit candles and Ask the Rabbi. $6 per person, $13 max per family.
· Thursday, January 27 – 10am – Yiddish Club – Create Your Story
· Sunday, January 30 – 9:20am – 4K Club
· Tues & Wed February 1&2 – Rosh Chodesh breakfast after Shacharit
· Thursday, February 4 - Hands-on Judaism – Smart Technology in Halacha (light dinner)
* The Sisterhood of Schomre Israel is providing breakfast food(cereal and bananas) to the local homeless shelter once a month. If you would like to assist the Sisterhood by providing four boxes of cereal for a specific month, please contact Sandy Corwin at 845-452-2436.

* Bingo is played every Wednesday night at 7:00 pm. Doors open at 4:00 pm
(Suspended until further notice.)
* The Private Herman Siegel Post 625 of the Jewish War Veterans of the United States holds its monthly meeting on the first Sunday of each month, at 9:30 am at the shul. For more information please contact the Post Commander, Robert L. Morrison at robl56@aol.com.
(Suspended until further notice.)
Annual Chanukah Dinner
Sisterhood's annual chanukah dinner was held on December 5, 2021. This was the first chanukah dinner in 2 years and a good time was had by all.
Sisterhood Annual Hamentashen Sale
Sisterhood has completed baking hamentashen for Purim 2020.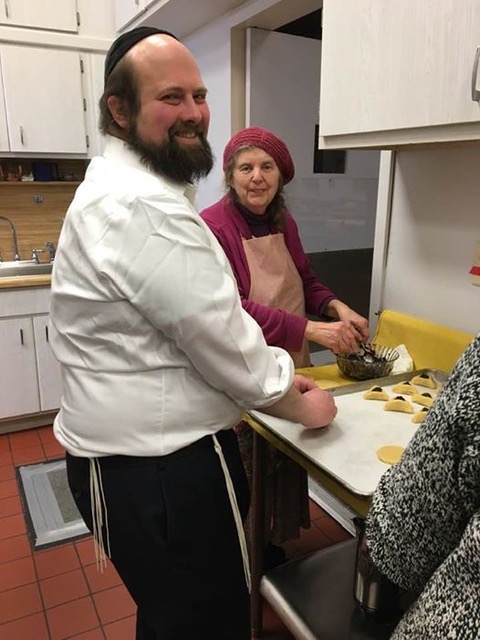 Last tray of hamentashen for 2020 Rabbi Krasner and Holly
Respect for Life
On Thursday January 23rd Dr. Shirley Lapiidus lead the discussion in "Healing during Grief", followed by a talk on "the Torah Perspective on Living Wills, Healthcare Proxies and the Value of Life in a Comtemporary Medical Society"
Reading Hebrew 101 Classes
On November 11th Rabbi Krasner began Monday classes on reading hebrew, starting from the absolute basics, and focused on being able to read properly and fluently. The classes were held from 6-6:45pm thru the end of January.
Mitzvah Workshops
Rabbi Krasner presented a number of mitzvah workshops from November 5th thru January 7th. Click here for more details.
Annual Raffle and Cocktail Party
The shul's annual raffle was held on Sunday, June 23th.
Annual Purim Dinner
The Sisterhood's annual Purim dinner was held on Thursday, March 21st .
Brisket Hamentashen
Sisterhood's Annual Hamentashen Sale
The Sisterhood recently completed baking hamentashen for its 36th annual sale. Shown below are some of the bakers.
Jewish Heritage Night
This year's Jewish Heritage Night at the ballpark was held on Sunday, August 19th.
Tue, January 25 2022
23 Shevat 5782
Support Shul's fund raising by Buying Gift Cards/Scrip. Order here or contact Leonard Grosman at (845)471-5105.
---
The current weekly email newsletter is available here.
This week's Torah portion is

Parshat Mishpatim
Candle Lighting
Havdalah
Motzei Shabbat, Jan 29, 5:49pm
Shabbat Mevarchim
View Calendar
_______________________
​Support the shul's fund raising while you shop online. Click here to start.
Tue, January 25 2022 23 Shevat 5782