Welcome to Congregation Schomre Israel, a modern orthodox synagogue located in Poughkeepsie, New York in the scenic Mid-Hudson Valley.
To see the shul's mission statement click here.
High Holiday Service Schedule
Click here for the schedule of services for the High Holidays.
High Holiday Virus Protocol
Click here to see the Coronavirus protocol in place for the holidays.
Annual Chanukah Dinner
Sisterhood's annual chanukah dinner will be held on Sunday, December 5, 2021 at 5:00 pm. For more information and reservations please click here.
Thirty-ninth Hamentashen Sale
Sisterhood is beginning its planning for its 39th hamentashen sale. To order please click here for all the details and order form.
Service Schedule
Fall / Winter Davening Schedule



· Shacharis (weekdays): 7:30 AM

· Shacharis (Sundays and Holidays): 8:30 AM

· Maariv (winter, weekdays): 6:40 PM (Zoom)

· Kabbalat Shabbat: around candle lighting time

· Shacharis Shabbat: 9:00 AM
Classes and events
Classes
During the High Holidays (which fall out right in middle of the week), we will only be having the Sunday Talmud class when the time allows for it.
· Sunday, October 3 ~9:20am – Talmud 5th Chapter (live only)
· Monday, October 4 – 10am - Hebrew II – Review (live only)
· Tuesday, October 5 – 10:30am – Daniel III, 10th Chapter – End Game (live and zoom)
· Thursday, October 7 – 5:30pm – Hands-on Judaism is back – Royal Clothing - Join us for a discussion about the Mitzvah of Tzitzis. We will follow by each person who will make their own pair of Tzitzis for them to wear or give a present to a loved one. (Please RSVP - Cost $10 per person). A light dinner will be served
· Sunday, October 10 ~9:20am – Talmud 5th Chapter (live only)
10am – There will be a repeat of Hands-on Judaism is back – Royal Clothing A light breakfast will be served
Events
· Monday, October 4 - 7:30pm – Board Meeting
· Wednesday & Thursday, October 6 & 7 – Rosh Chodesh Breakfast
*Friday eve October 8 – We will be starting to have an Oneg Shabbat after Kabbalat Shabbat around every other week. Please join us this Shabbat as we join together in comradeship and dinner as we celebrate the Shabbat (Sleeping accommodations can be set up for those in need of accommodations.
· October 11 – Start of Daf Yomi
· Thursday, October 21 – Global Challah Bake (for Women only)
· October 22-23 – The Shabbat Project
Speakers:
Click here for more information on both presentations.
Shabbat Covid Policy(5/25/21)
As we are all aware, as more and more people are becoming vaccinated, the CDC and other government agencies have eased up the advice and standards for gathering. The Board has met this evening, and the Board has agreed upon the following new guidelines:
Masks: Anyone who is fully vaccinated (2 weeks after their second shot) can come into Schomre without wearing a mask. Anyone who is not fully vaccinated, must continue wearing a mask while they are in the Schomre building. This is both for Schul members and for guests that we trust. Noone should be discouraged from wearing a mask, even if they were vaccinated.
Kiddushes and other -potential events - We will start having kiddushes indoors, but for the meantime the foods will be individually wrapped.
Sefer Torah Procession - We will be reinstating the procession of the Sefer Torah, while people may caress the Torah, they should still not kiss it, nor kiss any holy items
Alcohol - We still require that when people come to schul that they alcohol their hands (or wash them with soap and water) right away.
We are hoping to start a kiddush and mini meal after Arvit on Friday evening. This will be indoors.
Anyone who has fever or symptoms, or who has been in contact with someone who has covid must refrain from attending for two weeks.
In the event that someone comes to shul, and finds out that he has contacted covid (even lightly) we will return to the original guidelines for the next two weeks. This will also be true if there is Heaven forbid another spike.
Anyone who comes to shul who learns that they have covid should notify Rabbi Krasner, in order to assist in assessing what steps to take
While people are now socializing, we are still very particular that you do not socialize during davening.
Sisterhood Fund Raiser
These are just a sample of the handmade cards available.
* The Sisterhood of Schomre Israel is providing breakfast food(cereal and bananas) to the local homeless shelter once a month. If you would like to assist the Sisterhood by providing four boxes of cereal for a specific month, please contact Sandy Corwin at 845-452-2436.

* Bingo is played every Wednesday night at 7:00 pm. Doors open at 4:00 pm
(Suspended until further notice.)
* The Private Herman Siegel Post 625 of the Jewish War Veterans of the United States holds its monthly meeting on the first Sunday of each month, at 9:30 am at the shul. For more information please contact the Post Commander, Robert L. Morrison at robl56@aol.com.
(Suspended until further notice.)
Sisterhood Annual Hamentashen Sale
Sisterhood has completed baking hamentashen for Purim 2020.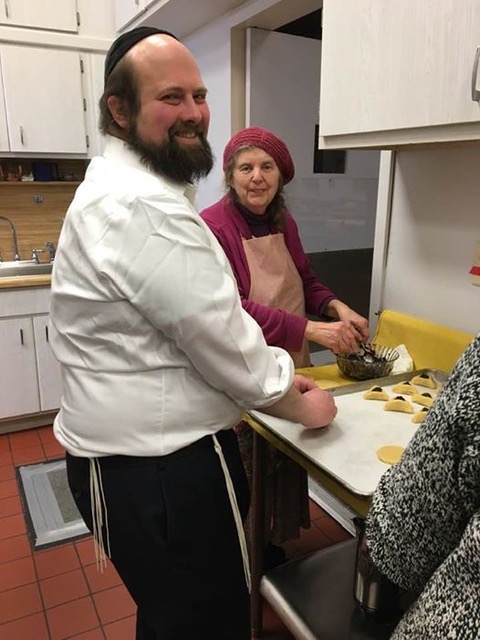 Last tray of hamentashen for 2020 Rabbi Krasner and Holly
Respect for Life
On Thursday January 23rd Dr. Shirley Lapiidus lead the discussion in "Healing during Grief", followed by a talk on "the Torah Perspective on Living Wills, Healthcare Proxies and the Value of Life in a Comtemporary Medical Society"
Reading Hebrew 101 Classes
On November 11th Rabbi Krasner began Monday classes on reading hebrew, starting from the absolute basics, and focused on being able to read properly and fluently. The classes were held from 6-6:45pm thru the end of January.
Mitzvah Workshops
Rabbi Krasner presented a number of mitzvah workshops from November 5th thru January 7th. Click here for more details.
Siyum Haşhaş Live Hookup
January 1. 2020 at 1:00pm there was a live broadcast of the Siyum Hashas at the shul for members to see and hear the program being held at Giants stadium in New Jersey.
Jewish Heritage Museum trip
On July 14th the shul sponsored a bus trip to the Jewish Heritage Museum for the Auschwitz Exhibit. This trip was open to the community. Click here to see the Museum write-up regarding the exhibit.
Annual Raffle and Cocktail Party
The shul's annual raffle was held on Sunday, June 23th.
Annual Purim Dinner
The Sisterhood's annual Purim dinner was held on Thursday, March 21st .
Brisket Hamentashen
Sisterhood's Annual Hamentashen Sale
The Sisterhood recently completed baking hamentashen for its 36th annual sale. Shown below are some of the bakers.
Jewish Heritage Night
This year's Jewish Heritage Night at the ballpark was held on Sunday, August 19th.
Purim Dinner
The shul's annual Purim Dinner was held on March 4th. Pictures from the dinner are in the photo album section.
Tue, September 28 2021
22 Tishrei 5782
Support Shul's fund raising by Buying Gift Cards/Scrip. Order here or contact Leonard Grosman at (845)471-5105.
---
The current weekly email newsletter is available here.
Today's Calendar
Shacharit

: 7:30am
Candle Lighting

: 7:25pm
---
Tomorrow's Calendar
Shacharit

: 7:30am
Havdalah

: 7:23pm
---
This week's Torah portion is

Parshat Bereshit
Candle Lighting
Havdalah
Wednesday, Sep 29, 7:23pm
Shmini Atzeret & Yizkor
View Calendar
_______________________
​Support the shul's fund raising while you shop online. Click here to start.
Tue, September 28 2021 22 Tishrei 5782