Welcome to Congregation Schomre Israel, a modern orthodox synagogue located in Poughkeepsie, New York in the scenic Mid-Hudson Valley.
To see the shul's mission statement click here.
Shabbat schedule
Candle lighting 4:20 * Mincha 5:10pm
Earliest time for the evening Shema – 5:22pm
Latest time for the morning Shema – 9:10 *
Shabbos concludes - 1 minute after 5:21
Classes and events
Classes
· Click here to see a list of weekly and monthly classes.
Events and Schedules
· To see a list of events for Nov. 2022 - Jan 2023 click here.
To access a zoom meeting click link: https://zoom.us/j/2448244824 ; Pswd - 2448
Chanukah Dinner
Sisterhood's annual chanukah dinner will be on Sunday, December 25, 2022. For information and reservations please click here.
Hamentashen Sale
In December Sisterhood will begin making, for the fortieth year, hamentashen for sale. Click here for the order form and to get more information on flavors and prices.
Sisterhood Center Piece Fundraiser
Click here to get the order form for the flowers shown below.

* The Private Herman Siegel Post 625 of the Jewish War Veterans of the United States holds its monthly meeting on the second Sunday of each month, at 9:30 am at the shul. For more information please contact the Post Commander, Robert L. Morrison at robl56@aol.com.
Wiffleball Tournament
On October 16th the shul once again hosted the Federation's annual wiffleball tournament. In addition the shul provided a BarBQ with hot dogs and hamburgers free to all attendees. A good time was had by all.
Aaron Lipkin June 22nd presentation
On June 22nd Aaron Lipkin make a presention at the shul, described below, to members of the community.
Thirty-ninth Hamentashen Sale
Sisterhood's 39th hamentashen sale(2022) was recently completed. This was the first sale in 2 years due to the covid restrictions.
Annual Purim Dinner
Annual Purim Dinner, hosted by the sisterhood, was held on March 17, 2022. This was the first Purim dinner held since the beginning of the Covid lockdown.
Annual Chanukah Dinner
Sisterhood's annual chanukah dinner was held on December 5, 2021. This was the first chanukah dinner in 2 years and a good time was had by all.
Sisterhood Annual Hamentashen Sale
Sisterhood has completed baking hamentashen for Purim 2020.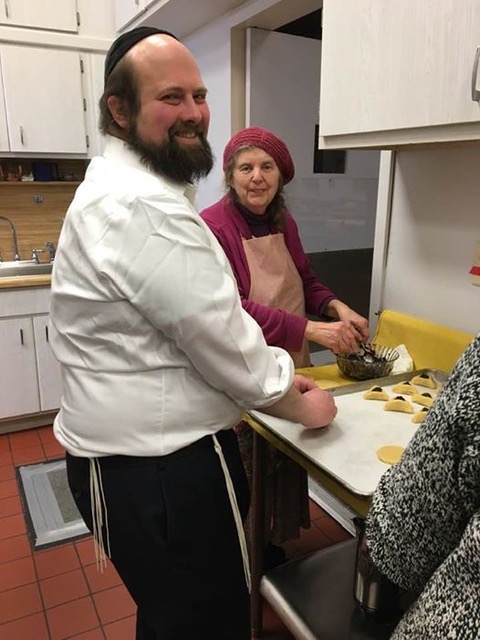 Last tray of hamentashen for 2020 Rabbi Krasner and Holly
Reading Hebrew 101 Classes
On November 11th Rabbi Krasner began Monday classes on reading hebrew, starting from the absolute basics, and focused on being able to read properly and fluently. The classes were held from 6-6:45pm thru the end of January.
Mitzvah Workshops
Rabbi Krasner presented a number of mitzvah workshops from November 5th thru January 7th. Click here for more details.
Annual Purim Dinner
The Sisterhood's annual Purim dinner was held on Thursday, March 21, 2020.
Brisket Hamentashen
Sisterhood's Annual Hamentashen Sale
The Sisterhood completed baking hamentashen for its 36th annual sale(2020). Shown below are some of the bakers.
Mon, December 5 2022
11 Kislev 5783
Support Shul's fund raising by Buying Gift Cards/Scrip. Order here or contact Leonard Grosman at (845)471-5105.
---
The current weekly email newsletter is available here.
Today's Calendar
Monthly Board Meeting

: 8:00pm
---
This week's Torah portion is

Parshat Vayishlach
Candle Lighting
Havdalah
Motzei Shabbat, Dec 10, 5:07pm
Shabbat Mevarchim
View Calendar
_______________________
​Support the shul's fund raising while you shop online. Click here to start.
Mon, December 5 2022 11 Kislev 5783